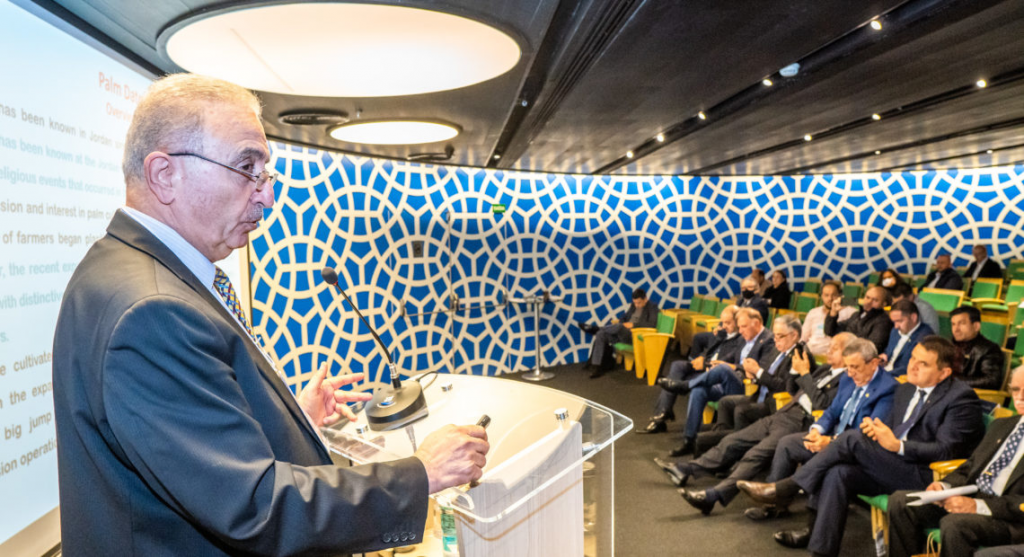 The president of the Jordan Dates Association presented an overview of fruit production in Jordan this Wednesday (18) at a seminar at the Arab Brazilian Chamber of Commerce headquarters.
São Paulo – Jordan is a date exporter, supplying the fruit to over 15 countries, and seeks to enter the Brazilian market. Jordanian dates were presented to Brazilian businesspeople this Wednesday (18) at the "Jordan & Brazil – Challenges and Opportunities" seminar, which took place at the headquarters of the Arab Brazilian Chamber of Commerce (ABCC), with the presence of a delegation from the Arab country. The group is in São Paulo to participate in the food and beverage show APAS.
According to data presented at the seminar by the president of the Jordan Dates Association (JODA), Anwar Haddad, Brazil imports dates but not from Jordan. The Arab country, however, is a traditional producer of the fruit with over 3,000 years of history in its cultivation and a robust expansion of production on farms since the 1970s. Currently, the planted area is about 4,500 hectares, with about 650,000 date palms.
Edson Lopes Jr./Arab Brazilian Chamber
According to information presented by Haddad at the event, output, which is 30,000 tonnes a year, grows by more than 10% a year. Of the total, 10,000 tonnes are exported to over 15 countries. Despite also being a date producer, Haddad said Saudi Arabia is among the leading importers of the Jordanian fruit. The United Arab Emirates is the biggest importer, with 21%, followed by Saudi Arabia, with 14%; France (12%); Kuwait (10%); the United Kingdom, Turkey, Qatar, Lebanon, and Morocco.
The JODA president told participants about the presence of local dates in the country since the times of Jesus Christ. The Bible brings accounts of passages of Jesus in the Arab country, including the mention of date palms in some facts of his history. Haddad even said they are grown in the region where the Baptism of Jesus Christ took place. According to the Bible, Jesus was baptized in the Jordan River by John the Baptist in present-day Jordan.
Haddad also reported the bulk of Jordan's date production is of the Medjool variety, grown in few places in the world. Of the 30,000 tonnes produced every year, 20,000 are Medjool. According to him, the Jordanian atmospheric pressure favors production. "That is why our dates have this wonderful flavor," he said. He stated Jordan does not produce a large volume of the fruit, but the local dates are very high quality. The country also cultivates the Barhi variety.
JODA participates in the Jordanian mission to Brazil, together with other private sector leaders and entrepreneurs from the Levantine country, accompanied by the ambassador of Jordan to Brazil, Maen Masadeh. Jordanian companies are exhibiting at the APAS Show, at the stand organized by the ABCC, alongside companies from the UAE, Egypt, and Tunisia. The show started on Monday (16) and continues until Thursday (19).